From Icart's illustrated book, Le Sixieme Mariage de Barbe-Bleue, 1938, an edition of 201. Image size is 6 x 7 1/2". Page # is the title. MATTED, UNFRAMED
From Icart's final book, Les Amours de Psyche et de Cupidon, 1949, an edition of 165. Image size is 6 1/2 x 9 1/4". MATTED, UNFRAMED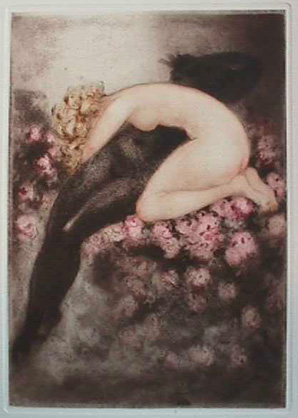 At Rest. $300
IMPORTANT info regarding signatures and other details on the erotic etchings:

Icart provided the illustrations for 24 French-published books in the years 1925-1948. They were called livre d'artiste or ''artist's books'' because the illustrations were not just printed pictures on the pages like in a modern day coffee table book; the illustrations were actual etchings (or engravings) printed from Icart's individual copper plates and then hand colored. A few books, like Faust, contained photogravure prints rather than etchings. These editions were larger, as the photogravure process is not limited to 500 quality images as is the etching process.
Each book was numbered and the edition size was between 50-500. If there were 500 copies of the book, then there were 500 copies of each "erotic" image produced. Many of the books were not bound. The text pages and the engravings came in a fancy box. Because of the high value of the complete book, and the desire by collectors to display the artwork in frames, most dealers break up the books and sell the artwork individually.
With rare exceptions, the etchings were not signed. No, the piece on ebay for $300 is not that rare exception. Think about it. No artist is going to spend his life signing individual pages of a book. Compare the added signatures on the pieces, sold mainly on ebay, to genuine signatures on his full-size etchings. You will find some examples by clicking on the titles HERE.
Most books were sold in both limited-deluxe and standard editions. The deluxe books had extra suites in B&W and/or sepia. You will see these sold individually, sometimes with added coloring and again, many times with added signatures. Most collectors consider them of lesser value. The deluxe books sometimes included a suite of etchings with remarque drawings at the bottom. These usually sell for a premium because of the rarity and the added artwork. A very few special books had a signed watercolor drawing which followed the theme of the book. The watercolors were never identical to the book etchings. They WERE pencil-signed. It sounds confusing, but the watercolors are on a flat sheet of paper with no plate impression line and do not match the regular book pictures. They are obviously not a page from a book and very few were made and in circulation.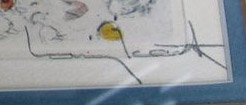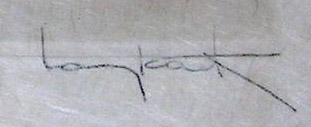 ABOVE: 5 fake signatures. Icart's O and the T are two letters that are hard to duplicate.






ABOVE: 3 authentic signatures from full-size etchings.