click logo to return to HOME page

William Holland
NEW ADDRESS. SAME PHONE & EMAIL.
3642 Savannah Hwy, Suite 116, #207
Johns Island, SC 29455
(this address is for mail & parcels only)
Tel 610-470-5925
email: bill@hollandarts.com

UPDATED 23 Mar 2019
TIFFANY DESKS PIECES
IN THE Pine Needle PATTERN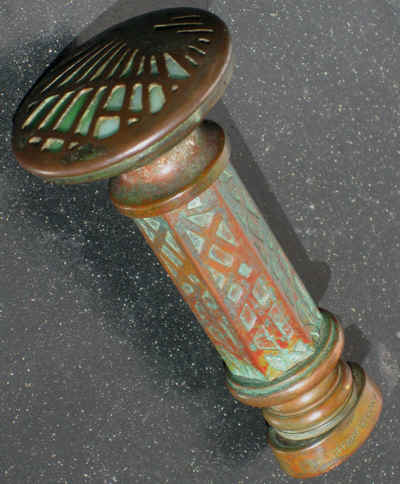 Monogram seal [later, without beaded decoration]

Tiffany Studios PINE NEEDLE PATTERN--DARK PATINA-GREEN GLASS

9.5x7x3.5"
large jewel box



all original with 2 trays and velvet lid liner. dedication in fine script.
$2150
6.75x4x3.25"
deep cigarette box

nice patina. an early model box with no provision for a wooden liner
$1195
4.5x3.5x1.5"
paperweight calendar

with original calendar inserts. some wear and smudges on the paper
$750.
various sizes
perpetual calendar pages

complete sets-ALL ORIGINAL

CLICK HERE FOR INDIVIDUAL LIST

2x2"
pen wipe

original brush
$375.

3.75x8.75"

thermometer-I HAVE TWO FOR SALE


TWO to choose from. TOP is in early filigree. the open spots are not missing filigree. this is one early design. original tube reads a few degrees high. BOTTOM is more traditional patina. original tube reads a few degrees off. monogrammed

LADY KATE

$1450 each
3.5x7"
spindle (bill file)

.
$650
19"
long blotter ends

minor wear at edges.
$200.
7"
pen


minor wear to patina as shown

$650

2.25x3"
mucilage pot with brush in lid

early design
$950.
.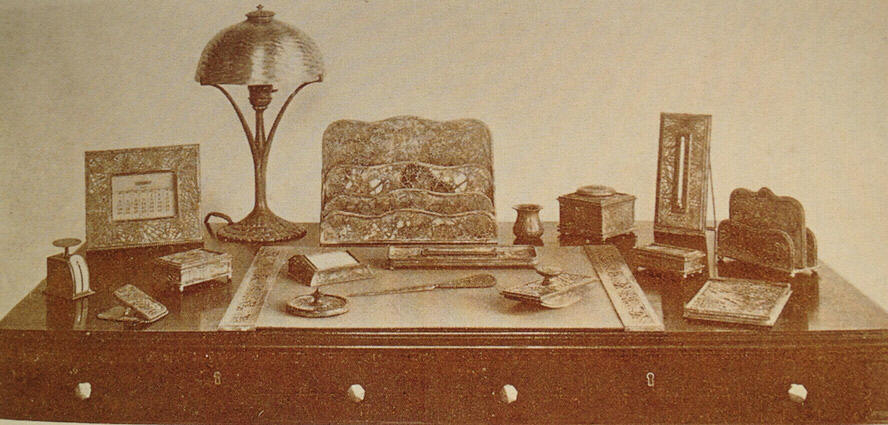 c1915 Tiffany Studios advertisement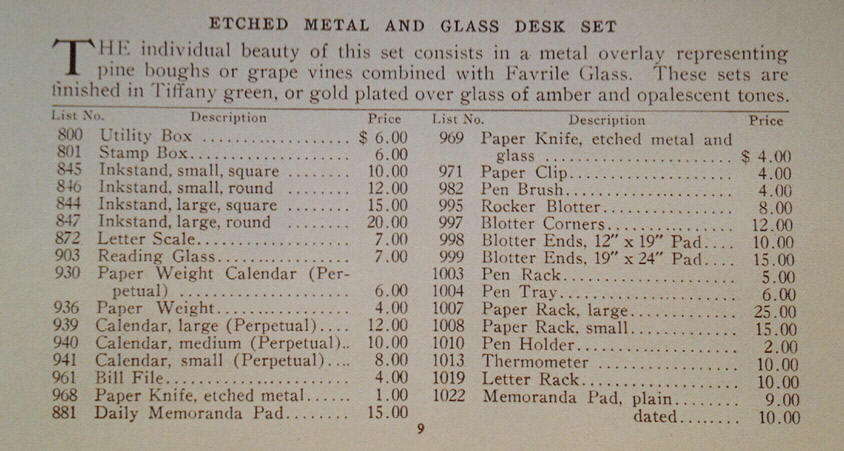 CLICK below to visit my other web pages 
 Louis Icart Etchings-- Over 200 scanned pictures
 Maxfield Parrish-- Art Prints, Calendars & More
 Tiffany Desk Items-- Inkwells, letter racks, frames, etc.
 Tiffany Lamps & Art Glass-- GENUINE & Guaranteed
 Icart Erotic Etchings-- Over 100 scanned pictures
 Boudoir Art-- by other Deco artists


RETURN to Home Page